Riot Games is possibly the biggest and most successful eSports gaming publisher on the planet. In addition to the wildly successful Valorant eSports scene, Riot also produces League of Legends, one of the biggest games on the planet! In this guide, we will help you find where to watch valorant esports matches.
Valorant Esports
Like many other competitive shooters, Valorant has been very active within esports for the last few years. Riot Games announced the Valorant Champions Tour (VCT), a year-long tournament series with three levels, in November 2020.
Valorous ChallengersA regional contest that serves as Masters qualifying events.
Valorant MastersMulti-stage international tournaments are held in the middle of the season.
Valorant Champions.The yearly world championship.
A Team qualifies for Champions directly, either winning Valorant Masters Stage 3 or by finishing first in their region's Circuit Point Standings. This depends on Challengers and Masters results.
Whether you are into watching all eSports matches or just want to get caught up and the semifinals stage, we will give you a full sense of where to watch valorant esports.
Valorant Champions Tournament (VCT) 2022
The Valorant Champions Tour is back in 2022, and the VCT's second run is set to begin that will aim to build on the success of the first. The initiatives for the year 2022 include the formation of national leagues, the expansion of Game Changers, the revision of the Challengers format, and the inclusion of "offseason" tournaments sponsored by third-party organizers.
The Main Event started on February 11 and will continue till March 13, deciding who will qualify for the Masters beginning from March 17, 2022.
This year, instead of three Challengers and Masters events leading up to the Champions event in December, there will be two stages leading up to the Champions event, which is presently scheduled for September. Third-party organizers will offer "offseason series and events" during the last months of the year.
Each Challenger stage's main events are also changing. Now, instead of three separate double-elimination brackets for each Challengers main event stemming from open qualifiers, it will feature one qualifier leading to a seven-week main event, with five weeks of round-robin play culminating in a double-elimination bracket. This will determine who will go to Masters. For the first-place finisher in Masters Two, there will be an automatic berth in Champions.
Event Overview
The 12 eligible teams come from three pools. Four teams from each of these pools will qualify.
Teams selected based on their performance in 2021.
Those from Open Qualifier (OQ) #1.
Teams from Open Qualifier (OQ) #2.
A group draw was held in front of each participating organization's representatives to divide the 12 teams into two groups of six. After that, Valorant eSports teams were divided into pools based on how they qualified, with byes having precedence, then OQ #1 Upper and Lower Brackets, and finally OQ #2 Upper and Lower Brackets.
For the length of the Main Event, matches will be held every Friday through Sunday. All match days will start at 1 p.m. PST, and all matches will be best-of-three, so brace yourself for over a month of the finest Valorant North America has to offer.
Will the head-turners from the previous year maintain their position? Or will a new pecking order be established by the up-and-comers? Over the next month and a half, we'll find out together.
Stage 1 Challengers
Format
The competition at VCT is similar to the Masters Berlin. Sixteen teams are evenly divided in the GSL double-elimination stage, which follows a single-elimination playoff phase.
The Challenger Stage 1 Playoffs are divided into three stages which include play-ins, group stage and knockouts. Teams will compete for a prize fund of USD 150,000 in addition to competing for one of two slots in Masters 1.
Challengers Stage 1 APAC Finals Play-insThe APAC finals play-ins will begin on 10th March till the 13th of March. Eight teams will compete in GSL format among which only four will qualify for next stage.
Challengers Stage 1 APAC Finals Group Stage (Top 16)The APAC finals group stage will be from 16th March till 21st March 2022. There will be four groups of double elimination consisting of four teams each. 2 teams from each group will move to the playoffs.
Challengers Stage 1 APAC Finals KnockdownsThe APAC finals knockdowns will be from 24th March till 27th March 2022. Eight teams will compete through double elimination series among which only two will qualify for Masters 1.
Where to Watch Valorant eSports – VCT APAC Challengers 1The matches will be officially streamed on Twitch and YouTube. Official Valorant watch parties will also be hosted by popular content creators and community members. Watch parties will be announced by the respective creators closer to the release date.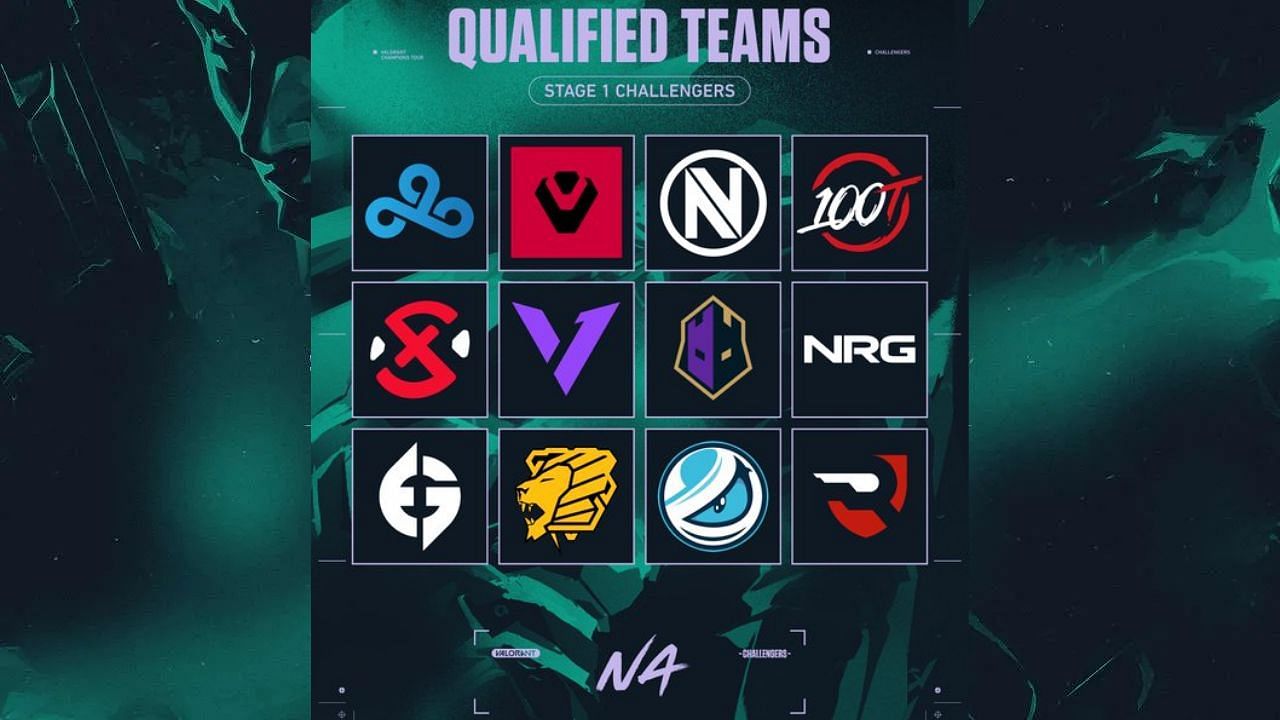 Valorant Stage 1 challenger 1 Main Event Qualifiers
Invitational Teams Qualifiers:
Sentinels
Cloud9 Blue
Team Envy
100 Thieves
VCT NA Open Qualifiers 1:
Version1
XSET
The Gaurd
NRG
VCT NA Open Qualifiers 2:
Evil Geniuses
Knights
Luminosity Gaming
Rise
It will be intriguing to see which two teams make it to the first VCT Masters tournament of the year once the VCT North America Stage 1 Challengers 1 Main Event begins.
The top eight teams will proceed to the Stage 1 Playoffs, which will begin on March 17. The playoffs will be a two-week double-elimination format, with matches taking place from Thursday through Sunday. Until the Lower Final and Grand Final, which will both be best-of-five, all matches will be best-of-three. Only two teams will be awarded golden tickets to VCT Stage 1 – Masters, so tune in to find out who will represent the region in the inaugural international competition.
Top Matchups
The VCT EMEA Challengers Stage 1 begins with an exciting battle between Esports powerhouses Team Liquid and Gambit Esports in the first match. They'll be followed by another intriguing matchup the same day when G2 plays against Fnatic.
Week 3 will include a match between Acend and Fnatic, which Valorant fans may look forward to. In their Week 4 matchup, G2 will prepare their rebuilt team to face the 2021 Valorant Champions-Acend.
The majority of the teams competing have been missing from the VCT for a long time and plan to compete in the most significant Esports events in 2022. In this sense, each match is expected to bring forth the greatest performances from Valorant's EMEA region's top 12 teams.
Masters Slots
Twelve teams will battle for bragging rights, circuit points, and a sizable prize pool at Masters. The following is the distribution:
North America (NA) two slots
Brazil (BR) one slot
LATAM one slot
EMEA three slot
Korea one slot
Southeast Asia and Oceania two slots
Japan one slot
One spot is yet to be decided in a playoff between LATAM and Brazil
Champions Slots
The number of teams for Valorous Champions will be increased to 16. This is the number of spots each region will receive:
North America three slots (2 via points and 1 LCQ)
Three for EMEA three slots (2 via points and 1 LCQ)
Southeast Asia three slots
Korea one slot
Japan one slot
Brazil one slot
LATAM one slot
APAC North LCQ (Japan and Korea) one slot
APAC South LCQ (SEA, SA, OCE) one slot
South America LCQ (Brazil and LATAM) two slots.
VALORANT Champions Schedule and Streaming According to 2021
It begins around 8 am. From December 6th to December 11th. The final group stage is scheduled for 12 noon. AEST The day of the group stage includes three games between all four teams with Vision Strikers vs. FULL SENSE on Dec. 1.
The final group stages are set to take place in Buenos Aires on December 7, but the final match will consist of one. The knockouts begin at 12:00. The first two quarter-finals are set for 8 pm EST. The next two will begin the same day and lead to a break-in day without any games for Dec. 10. Both semifinals and finals take place over two nights and start simultaneously.
Schedule of VCT 2022
Riot Games announced that there will only be two Masters events this time around. That is down from three last time. As a result, Challenger tournaments have been simplified, with two and the Last Chance Qualifier taking place before Valorant Champions.
Challengers 1 will be held in February and continue till March.
Masters 1 will begin in April.
Challengers 2 will begin in May and continue till June
Masters 2 will start in July
Champions will begin in September.
Broadcast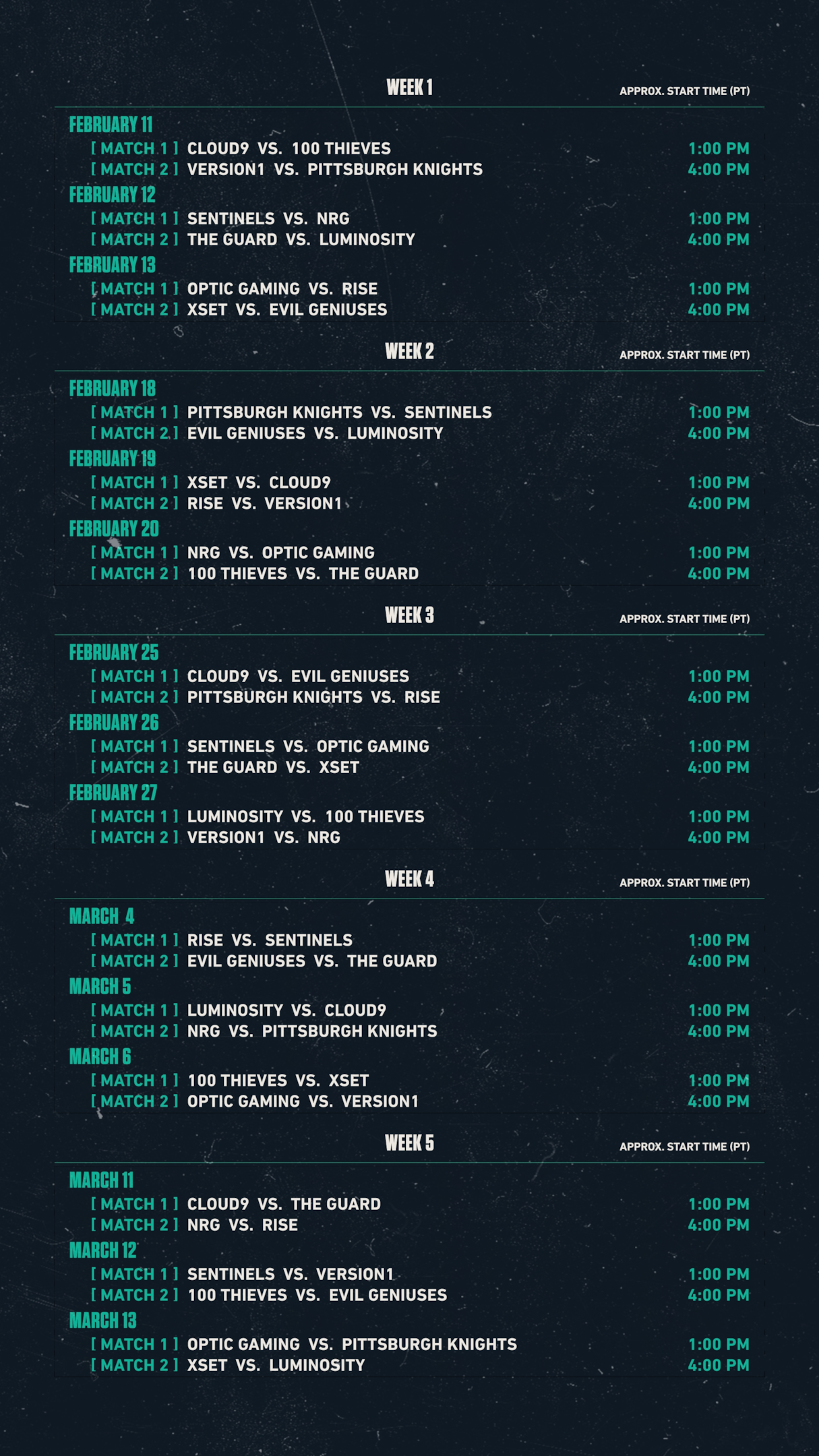 Where to Watch Valorant Esports Online
All major platforms, including YouTube and Twitch, will broadcast Valorant Champions 2021 live. The games will be publicly webcast on YouTube through the Valorant Champions Tour channel. The games will be live-streamed on Twitch on the official Valorant Esports channel. Valorant Esports' official stream partners will offer to provide access to many language broadcasts. Tagalog, Thai, Bahasa Indonesia, Mandarin, Vietnamese, Korean, and Japanese are among the alternative streams available to watch.
Co-Streamers
The official co-streamers list for the final round of Champions has also been announced by Valorant. Co-streamers include:
Plat Chat (EN),
Rio Djaja (ID),
Narongrit "Pooh1Tap" Sae-hun (TH),
Maggiekarp (PH),
Tarik "tarik" Celik (EN)
Ngô "crazyguy" Công Anh (VN).
They'll host watch parties as well as provide on-the-spot commentary from their own perspective, offering a unique perspective on game broadcasts.
Valorant esports can be streamed on 'Valorant Twitch' and 'Valorant Youtube'.
Valorant Champions Streaming Links
If you want to know where to watch Valorant eSports matches throughout the year, you can check out any of the pro or community streams and social media pages listed below, depending on which language you prefer.
English
Tagalog
Thai
Bahasa Indonesia
Mandarin
Vietnamese
Other Languages
Where Can I watch The Valorant Champions Tournament?
An overview is available on this site and matches can be seen on valorANTs YouTube or Twitch channels.
Want to Play Like a Pro eSports Valorant Player?
If you love watching professional valorant eSports matches and playing the game, you may want to check out our Valorant crosshair guide that includes many pro crosshair setups, so you can play the game just like your favorite eSports legends!