If you ever experienced sudden bloodthirst, but Back 4 Blood said the profile service is in maintenance mode, then we have got you covered. We will discuss what the error is actually saying and tell you how to fix the maintenance mode error.
The Origin of Back 4 Blood's Maintenance Mode Error
Suppose you are a fan of competitive online games. In that case, we are sure you have encountered the service is in maintenance or several error messages. The most common error message that the players experienced while playing Back 4 Blood was the "Profile Service is in Maintenance Mode."
The error was one of the several technical issues Turtle Rock Studios faced during the open beta period. The players questioned their internet connection, but it wasn't something they could solve back then. However, things are different now.
What is Profile Service is in Maintenance Mode error?
When you initially sign in to the game and see the Profile Service is in Maintenance Mode error, it can mean two things. The first being the default profile is damaged or permissions have been altered. It might sound confusing, but in simple terms, it means that the link between your device and the game's servers isn't working as intended.
There could be several issues prompting this error message. Still, we will look into some of the usual suspects and tell you how to fix the profile service in maintenance mode error.
The servers are down for maintenance.
The first culprit is no one but the game developers. If their servers are not responding, you will certainly get a maintenance mode error. The best approach to verify any profile service problems from backend is to check the social media hubs.
You can check their Twitter and verify if something is wrong from their end or yours. Often, it would be from the game's backend, and Turtle Rock Studios are very quick in informing their players about any errors.
However, if you don't find anything there, the problem would certainly be on your side. You can also learn more about checking the Back 4 Blood server status with our guide!
Internet Connection Problems 🙁
We are in the era of Web 3.0 and new technologies being introduced every other day. However, unfortunately, the backbone of these technologies is still not efficient enough. Yes! We are talking about your internet connection. Don't worry, we have also experienced internet connections being as slow as a snail!
A good way to start will be to check if your internet connection is giving you the speed you pay for? You can just open the following link and run the speed test. If there is anything wrong with the speed or if the ping returned is too high, then the problem is on your end, not on the Back 4 Blood's backend.
You can try restarting your router and hope that the problem resolves, but if it doesn't, then try to completely shut down your device and try again.
If none of that works, too, then it would be a good idea to try the secret weapon.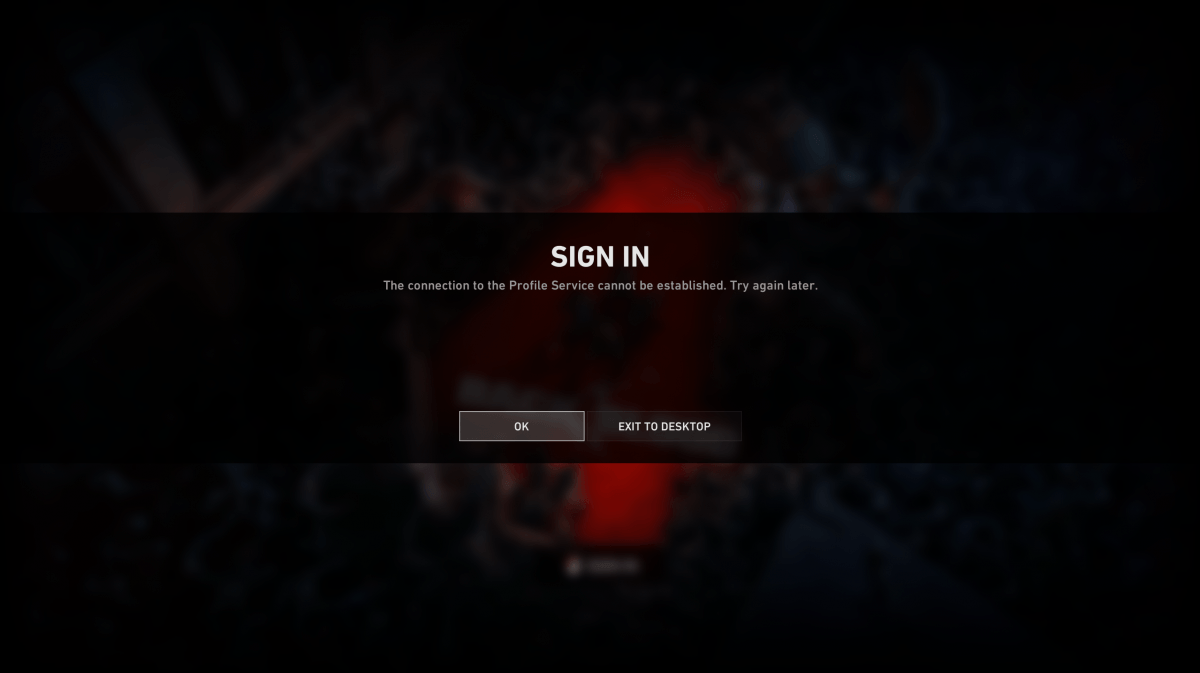 The VPN Hack!
We normally don't recommend this as it will massively affect your ping and packet loss. Still, if your bloodlust is uncontrollable, then this is the hack for you. You can try downloading a VPN on your device. This might be difficult on PlayStation and Xbox, but it is really easy to check what's wrong if you are a PC player.
You can just turn on your VPN and restart the game. There is a good chance that the game will work now. If this happens, that means something is wrong on either your internet provider's end or the Back 4 Blood servers. Still, it would be ideally resolved soon enough. However, if it doesn't and you need to turn on a VPN again, then it's a good idea to contact the support staff.
You can tell them every method you tried to fix the problem within the support ticket and wait for their answer. We are sure the developers will fix whatever bug is causing your gaming experience to hinder.
Conclusion
We hope that we have helped you understand the profile service problem and how you can solve it. If you face similar problems in other games, feel free to tell us below, as we want to help all of our readers out and ensure you improve at all of your favorite games!